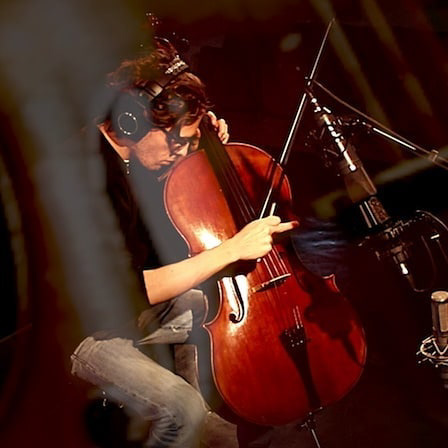 I graduated in Composition (BA) at Civica Scuola di Musica Claudio Abbado in Milan, with M° Giovanni Verrando, Andrea Agostini and Daniele Ghisi.

Concurrently, I studied Violoncello with M° Alfredo Cicoria, and Orchestral Conducting with M° Yoichi Sugiyama at the same Conservatory.

I am pursuing further studies in Composition at Civica in Milan (MA diploma due in April 24), while cooperating with the BA and MA composition faculty as an ensemble conductor, performer and project coordinator.

I am co-founder and artistic director of ENDKADENZ, a contemporary multimedia collective based in Milan.

I attended Composition Masterclasses held by Daniele Ghisi, Andrea Agostini, Ondrej Adámek, Walter Grimmer, Barry Truax, Francesco Filidei, Stefan Prins, Marco Momi, Fabien Lévy, Simone Movio, Oscar Bianchi, Justé Janulyté, Mauro Lanza and Salvatore Sciarrino.

I attended Orchestral Conducting Masterclasses held by Yoichi Sugiyama and Achim Holub, performing with Orchestra Milano Classica, London Soloists Orchestra and mdi ensemble. 

My latest works have been performed by ensembles such as Ictus, Collettivo_21, mdi Ensemble, Divertimento Ensemble in international contemporary music festivals, such as Vapore d'Estate 2021-23 (Milan), Rondò 2022 (Milano/Moncalvo), Transart 2022 (Bolzano), Milano Music Fashion 2022 (Milan), Sound Spaces 2022 (Malmö) and Monza Biennale 2021.

In 2023, I worked as assistant production manager for the International Young Composers Academy Ticino, and as feature film music composer for IED.

I have interacted with several theatre companies in Italy, mostly in the area of Milan, Como and Pavia, and worked with some of them (Alma Rosé, Artemista, Mauro Buttafava) both as a composer and performer of incidental music.

I taught ensemble music (applied to dramaturgy) at the Enrico Fermi High-School (Cantù, IT) and gave Electric Bass lessons and Music Theory at Associazione Artemista (Pavia, IT). I worked with several italian songwriters as a session bass player and with Michael Leonhart and Nels Cline as a cellist.
Contact: elab2893[at]gmail[dot]com