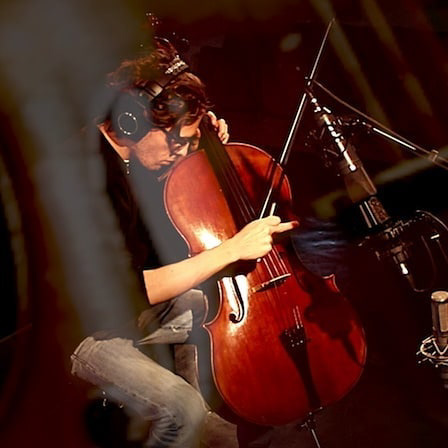 I was born in Milan and received my first musical training on piano. Since the early years of my educational background, I have focused my attention mainly on composition, initially as a self-taught. I started studying electric bass and violoncello after a few years. 

During the High School years, I began learning about dramaturgy, developing a personal interest in composing and performing my own incidental music, conceived together with scenography, making use of acoustic or electric instruments and electronics (live or fixed). 

I have interacted with several theatre companies in Italy, mostly in the area of Milan, Como and Pavia, and worked with some of them (Alma Rosé, Artemista, Mauro Buttafava) as a composer or performer of incidental music.

I studied Composition at Civica Scuola di Musica Claudio Abbado in Milan with M° Giovanni Verrando, Andrea Agostini and Daniele Ghisi, obtaining a First Level Degree.
Concurrently, I continued my studies in Violoncello with M° Alfredo Cicoria and attended Orchestral Conducting with M° Yoichi Sugiyama at the same Conservatory.

I attended Composition Masterclasses held by Daniele Ghisi, Andrea Agostini, Ondrej Adámek, Walter Grimmer, Barry Truax, Francesco Filidei, Stefan Prins, Marco Momi, Fabien Lévy, Simone Movio, Oscar Bianchi, Justé Janulyté, Mauro Lanza and Salvatore Sciarrino.

I attended Orchestral Conducting Masterclasses held by Yoichi Sugiyama and Achim Holub, performing with Orchestra Milano Classica, London Soloists Orchestra and mdi ensemble. 

I taught ensemble music (applied to dramaturgy) at the Enrico Fermi High-School (Cantù, IT) and gave Electric Bass lessons and Music Theory at Associazione Artemista. I worked with several italian songwriters as a session bass player and with Michael Leonhart and Nels Cline as a cellist.

Currently, I am pursuing further studies in Composition with Giovanni Verrando at Civica in Milan.

I am co-founder and artistic director of ENDKADENZ, a contemporary music ensemble based in Milan.

My latest works have been performed by ensembles such as Ictus, Collettivo_21, mdi Ensemble, Divertimento Ensemble in international contemporary music festivals, such as Vapore d'Estate, Rondò, Transart and Monza Biennale 2021.